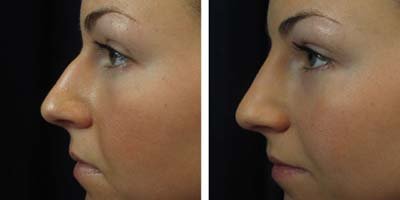 A non-surgical rhinoplasty is a procedure to improve the appearance of the nose in order to improve the height of the nasal bridge, correction of any humps and to improve the symmetry.
It is a very technique sensitive procedure which involves the use of Dermal fillers to inject into the nose giving an instant and immediate improvement in the appearance.
if you are unhappy with the appearance of your nose and do not want to have a surgical option then please contact us for a FREE CONSULTATION.
Hand Rejuvenation
Treatment Prices
From £450
Luscious Lips
Treatment Prices
From £300
Excessive underarm Sweating
Treatment Prices (Both Underarms)
From £450
Derma Roller
Treatment Prices
From £100
Chemical Peels
Treatment prices
Superficial Peels – £100
Medium Depth Peels £150
Square Jaw Treatment
Treatment Price
1 side of Jaw £150
2 sides of Jaw £199
Nose Reshaping
Indications
- Improve nasal bridge contour
- Remove humps along the bridge of nose
- Improve symmetry
- Raise tip of nose
Treatment Price
None Surgical Nose Job
FROM £300
Prescription Wrinkle Reducing Injections
Treatment price
Botulinum Toxin(Botox)
1 Area £150
2 Areas £199
3 Areas £250
Bunny Lines £30
Upper Lip £30
Nefertiti Neck Lift £300
Armpit Sweating £450
Dermal Fillers
Treatments
Wrinkles Around Mouth & Nose FROM £250
Lip Augmentation FROM £349
Cheek & Chin Augmentation FROM £400
Non-Surgical Nose Job FROM £349
Smokers Lines £250
Tear Troughs £300
Jaw Line Contouring £350
Hand Rejuvenation £499
Six Month Smiles
Treatment Price
From £2500
Invisalign
Treatment Prices
From £2800
Dental Implants
Treatment Prices
From £1000
Bring A Friend Offer
If you book with a friend who is a new face to Beauty Aesthetics then we can offer both of you 10% discount.
Anti-Wrinkle Combination Offer
If you have two different categories of treatment then we can offer you £50 off the total of your
treatments (both treatments must be booked and performed within two weeks of each other).